About
Naveen Lakkur is the Founder and Chief Innovation Coach at Institute of Inspiring Innovation. Corporate divisions such as Dell R&D, Mercedes Benz Research & Development, Standard Chartered Bank, TCS Health Care, FujiFilm Sericol, Crimson Logic, have utilized his training programs to nurture their human capital with innovation competencies.
Naveen Lakkur is a serial entrepreneur turned Innovation coach. Naveen loves to inspire enterprises and entrepreneurs to innovate and guide them to grow in the right direction. In his professional career spanning 25+ years in the industry worldwide, he has co-founded several innovative companies. He has also been a catalyst for 250+ ideas to have become commercial realities.
He is passionate about sharing his practical knowledge of building companies and nurturing ideas. He brings to the table his personal experience of a unique combination of 'Systemic Innovation ~ A Structured and Scalable A Structured and Scalable Approach' and 'Tactical Innovation ~ A Frugal and Flexible Approach.
Besides his active engagement with the industry, he indulges in writing books with international recognition and he loves telling business stories.
Sign up to our monthly innovation shots
Books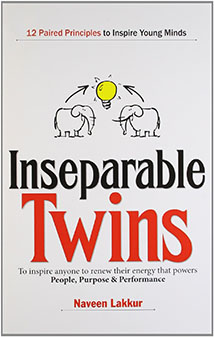 Inseperable Twins - 12 Paired Principles to Inspire Young Minds
Bloomsbury India | 2013
Naveen Lakkur's Inseperable Twins talks about twelve districtly paired principles which can be implemented in at your workplace and your daily life. Applying these principles are bound to give results, proving it powerful in igniting young minds to seek success, ethically.
Buy Book
Buy eBook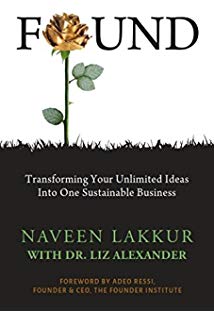 Found: Transforming Your Unlimited Ideas Into One Sustainable Business
Prolibris Publishing | February 2016
Found is a book for ideators, entrepreneurs and intrapreneurs. Found provides a five-step framework for your ideation process along with simple methodologies to validate ideas. You can work on any idea because no idea is a bad idea. There are examples of people who have been there and done that.
Buy Book
Buy eBook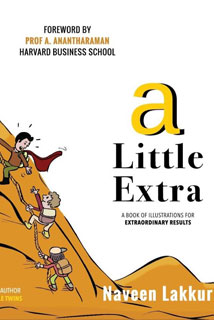 a Little Extra
This book is a book of illustrations that inspires readers to do a little extra, no matter which phase of life or a project they are in. It aims to kindle a positive attitude and creates a right mindset required to produce extraordinary results.
Buy Book
Writings
InnoPapers
The Prescription for Innovation in Healthcare
---
InnoTalks
Muralidhar S with Naveen Lakkur
Innovation coach Naveen Lakkur interviewed Muralidhar Somisetty, CTO of Innohabit, and the Founder of YogiFi, an innovation that is transforming lives.
---
Narayan K with Naveen Lakkur
Serial innovator and an expert on internet security Narayanan K was interviewed by Innovation coach Naveen Lakkur. Learn how his innovation changes lives.
---
Arunabh Choudhary with Naveen Lakkur
Innovation coach Naveen Lakkur interviewed Arunabh Choudhary, an attorney and partner at Juris Corp. Know more about his journey of fostering innovation.
---
William C. Miller with Naveen Lakkur
Innovation coach Naveen Lakkur interviews William C. Miller, co-founder of the VCI, believes that everyone has the power to innovate.
---
Rajesh Trivedi with Naveen
Innovation coach Naveen Lakkur interviewed a protege of Dr. Abdul Kalam, Rajesh Trivedi, Managing Trustee of ALERT who talked about giving back to society.
---
Dr. Jagadish Chaturvedi with Naveen Lakkur
Innovation coach Naveen Lakkur interviewed Dr. Jagdish Chaturvedi an ENT Surgeon, Innovator, and author for efforts towards affordable medical devices.